Due to the passing of Robert Frates at the end of September, the staff (most of us are related to him) was not able to complete our normal tasks. A new Featured Custom will be ready on November 1. We thank you for your understanding.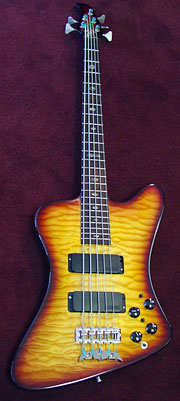 Steve probably didn't need another bass. He has a nice collection including several custom Alembics. For a few years, he'd been after Susan to have us build an Alembic version of a Gibson Thunderbird bass. There were things he liked about the Thunderbird - the cool shape, the heavy sound, but he wanted his version to be impeccably made with a killer Quilted Maple top and the clean sound he has grown accustomed to with his Alembic basses. Here's how Steve explains it:

The idea behind this project was to violate the laws of nature by marrying my 2 favorite basses -- Alembics and old T-Birds. I love the T-Bird's body shape, so I didn't want to modify it too much. I also wanted to capture the essence of the T-Bird's tone, which is largely a function of it's all-mahagony neck and body, and the unique placement of the 2 pickups -- so we copied those things, too. Then, we added the versatility of Alembic electronics and the overall quality and vibe that they build into everything.