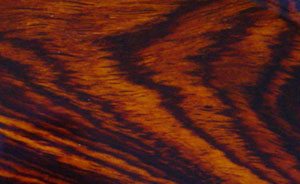 Coco Bolo not only appears fabulous, but imparts a complex mixture of dark, rich bass response and clear highs. Even though the body shape is rather small (especially compared to traditional Alembics), the character and grain of the Coco Bolo still looks striking.


After he'd had the guitar for a little while, Jonathan wrote to us:

Words can hardly describe how special The Little Bear is to me. You were entrusted with the daunting task of trying to capture the essence of my precious daughter in an inanimate object...brass and wood somehow replacing flesh and bone. It needed to be beautiful, delicate and, above all else, full of personality. Your collective endeavor succeeded in creating no less than just that.

Jonathan - What a pleasure it was to craft this guitar for you. We loved it so much, we are making a new model based on it (the Darling), and the serial number code will help us remember who dreamed about it first, "JL." We're also looking forward to our next project, to celebrate the birth of your son. Congratulations!