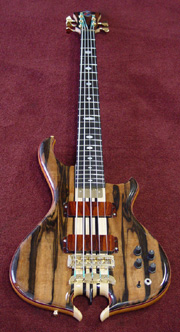 This bass has been stolen. If you see it, please contact Alembic immediately (707) 523-2611. Thank you!
Austin adds to his impressive instrument collection with this magnificent jewel, named Dark Star after one of his favorite songs from the Grateful Dead. It will be sharing company with his three other Alembics. A Walnut Brown Bass with side LEDs was always Austin's "work bass," and one he had signed by Victor Wooten. His Ebony fretless Excel is the first one with blue side LEDs. The Big General is his Mark King Deluxe in Coco Bolo, a bass he loves dearly.


Dark Star is Austin's first custom Alembic bass, made to his exact specifications, including neck dimensions, wood selections and decorative details.