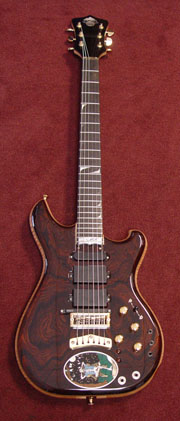 When we first met CJ, he told us this story from when he was a child to help us understand why we were going to be building him this particular guitar:


"When I approached Dad, Service Merchandise catalog in-hand and pointing to the guitar with the built-in speaker, his natural inclination was to instead go to the local music store. Later that day, we walked out with a shiny red Stratocaster. He handed me 'Blind Faith' and 'Super Session' and told me to learn them. An ambitious assignment to be sure, but then again, Dad was not always fond of starting at step 1. I was 12, and that's how it all began for me. Although he could not play an instrument or hold a tune, Dad made sure to get me on the right musical track early on."


As the spec list evolved on this guitar, it was clear that the task was not only to satisfy CJ's current needs in a musical instrument, but it was to be an object to share with future generations of his family, and keep the memory of Jack alive.


"Every aspect of my original intention has been thoughtfully preserved and fantastically executed here - a tall order, indeed! From the breathtaking interpretation of an old family photograph, to the exacting geometry of the custom control layout (right down to the precise distance between the 1/4" jacks), you'd think there was a small group of mind readers in Santa Rosa - that's how on point these folks are. The unique sound of this guitar is at once mellow and articulate, defined and haunting, and it always makes me smile. I get out of it what I put in - all any musician could ask of their instrument. The mindfulness of Alembic to honor the vision, and their mastery of instrument making, has produced a family heirloom unmistakably deserving of Jack's memory."