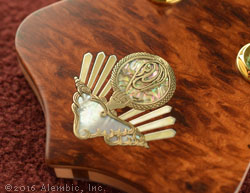 When Pierre returned home to Switzerland, he wrote to us:

"What to say but a huge thank you for the wonderful time spent in your company. I really enjoyed the tour sprinkled with all those vintage Berthas and Nancies, the unique electronics room that looks 'mad-professorly', in short, something very unique, in a very discreet wrapping!


"What to say about the bass, the most incredible of them all, 'tout en nuance' like the french would say. The top is magnifique, and the inlays are absolutely stunning. The colour sandwich is very fitting and so chic! A real work of art... I know each bass that comes out of Alembic is a work of art, but I must admit that I am completely blown away by this last achievement."

We cannot express enough how much we enjoy making the ideas you present to us become basses.