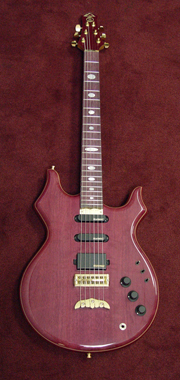 Well-known as a equipment rental source and all-around gear guru in New York, Artie Smith already had several Alembic basses and guitars in his collection including a Tribute guitar. When he ordered Grape Jam, it started out as a Tribute, but Artie quickly discovered that while he loved the distinctive shape, he needed to go all out custom. A few tweaks to the spec list, and the custom build journey began.


As soon as Grape Jam arrived at Artie's, he immediately took it to Jimmy Vivino, guitarist for the Max Weinburg 7. Before she was even a week old, Grape was making her TV debut on the Conan O'Brien show.


Affectionately known by Artie as the "one eyed, three pickup flying purple hippie eater" or "PHE," Grape Jam has been wowing both Artie and his clients for over a year now.