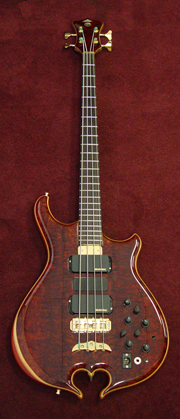 At first glance, you might think this a more or less typical Series II Alembic. But upon closer inpection, lots of little details come to light.


Though the body shape looks fairly similar to the Standard Heart Omega, it's actually based on an experiment called the Balance Point. The Balance Point was larger, with an extended upper horn and offset cutaway for improved balance on 5 plus strings and longer scale lengths. We only made a few basses in the Balance Point shape as it finally evolved into the Balance K shape which is smaller and lighter weight. For Scott, he had us trim down the width of the Balance Point, but kept the horn near to the same.


The bookmatch to center is probably something any Alembic enthusiast will notice right away. It's an obvious design choice considering the top is Quilted Coco Bolo. If you get this wood on your Alembic, you'll want to enjoy every square inch you can. Scott's order originally called for the swirly-type Coco Bolo and some custom inlays, but after seeing some of the Quilted Coco Bolo we had available, he decided to go for the QCB, and reconsider the inlays.


You can just catch a glimpse of the Vermilion core past the elbow contour carving.