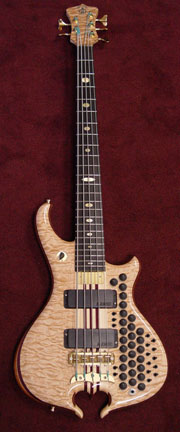 You never know who's going to be on the line when you answer the phone. Some 31 months ago, we received a call from the mayor of a small town planning a big event. They wanted to commission a special tribute to their hamlet for the "Pride of Knobworth" sesquicentennial parade, or "Knobfest" as it is known throughout the county.


Knobbersham-by-the-sea is a small idyllic village nestled on the southern coast of England which has come to be completely peopled by musicians. The population is only 47, and each person wanted to have a commemmorative control placed on the bass to signfiy this historic event.


As with anything designed by a committee, there are always compromises. Some folks were not happy to be reduced to a mere switch in place, but c'est la vie!