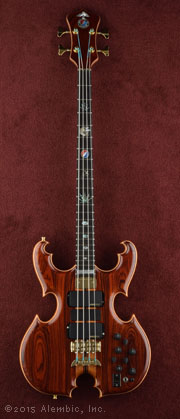 Ted's path to Alembic started with The Who - he was really taken with John Entwistle's Series II bass tone in the early 1980s. As he dug deeper into music, discovering classic bands that were new to him, he kept finding that bass tone with Jack Casady of Jefferson Airplane, John Paul Jones of Led Zeppelin, Phil Lesh of the Grateful Dead. It was to be bass for Ted, and someday, his own custom Alembic bass.

Back in the early 1990s, Ted began to envision a beautiful instrument for himself, but it was more than just an instrument, it was a dream to live - a Liquid Dream in his mind's eye. Fast forward 20-plus years, when he could finally bring that dream to reality, and the name still rang true for him.

Susan worked closely with Ted on getting the details in order. He was particularly drawn to the shape of the Dragonsong guitar, and after browsing some of the custom inlays we have done, he came up with a collection of designs that reminded him not only of his spirituality, but also of his adventures at many a Dead show. These are the inspirations he carries in his music.