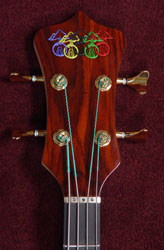 Citius, Altius, Fortius (faster, higher, stronger) as the Olympic motto goes. Both the motto and the familiar symbol of five interlocking rings were designed by Pierre de Coubertin, co-founder of the modern Olympic Games, in 1912. The debut was postponed due to World War I, but finally the symbol appeared at the 1920 games in Antwerp, Belgium.


We resized the Alembic logo for this project, and had it cast in aluminum. Later, we anodized it in the colors of the Olympic flag and interlocked the rings of the dragon as an homage to the design. Copyright restrictions do not allow us to produce our traditional wallpaper for this design as the International Olympic Committee is fiercly protective of the symbol.


But at least now the Google result of "Olympic bass" will bring people to what they are actually looking for.