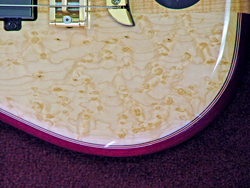 Bird's-eye Maple is such a great wood. Nice and dense, it yields amazing high-end response. Besides that, it's hard to deny that the figure is drop-dead gorgeous.


When we get lucky, we find pieces like this one with a wealth of large bird's-eye clusters littered over a field of gentle quilts. When you see it in person, and can move it in the light, it almosts breathes.


Usually highly figured Bird's-eye Maple has streaky mineral deposits. This one is nice and clear, with just a few of the dark spots typical for this wood.