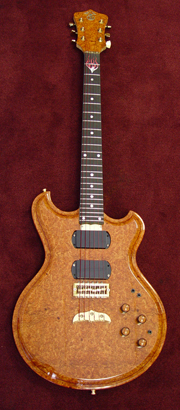 After Tom received his custom Signature Deluxe bass, he started thinking about a guitar. He found a big chunk of Burl Amboyna and asked us to make two instruments from it, a matching guitar and bass. When he saw the first pictures of this guitar taking form, he posted on the Alembic Club:
"May I introduce the guitar I commissioned, affectionately named Pele, after the Hawaiian goddess of fire. Needless to say, she's smokin' hot."

The burl is so densely packed, that it's difficult to focus on any symmetry from bookmatching. Other people commented that the wood looked like an inferno, chiseled from stone, or boiling lava. We must agree, the wood is the defining feature of this guitar.