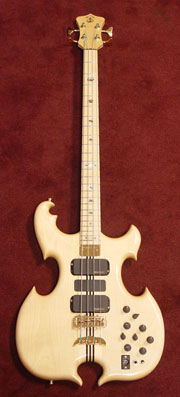 Possibly the easiest order we've ever accepted, this is the made-to-order dream-come-true for Lalo Garcia. Since he had experience with his Alembic Series II from the 1980's, plus scores of other basses, he really knew exactly what he wanted from this bass. His ideas were so focused, Pure Brilliance emerged just as he envisioned.


"I'm VERY happy with my bass - it's the bomb! I can't believe how good it sounds. I have an early and rare 1978 Spector bass that has a solid birch body with polyester finish, it sounds really impressive, but the electronics were not the best of the best. This new bass just nailed it! It's Birch, it has polyester, it has a Maple fingerboard, it has the best electronics in the industry and the looks are killer too... It was worth every cent and it has the sound that I wanted!"


With the choice of woods, the form takes center stage as far as looks are concerned. No grain to distract, no laminates to dazzle, just a stark and sober sculpture to enjoy.