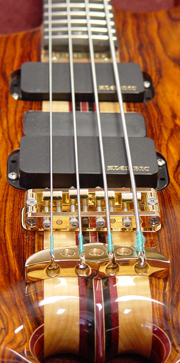 Michael's been playing Alembics for a good long time. He's owned several, and appreciated them for their unique voices. When it came time to custom order, we tried to combine aspects of what he's liked about each of these instruments into a bass made specifically for him.


After about eight months building, Michael received his custom bass. "I got it! And it is FANTASTIC!!! The pictures just don't compare. Jaws hitting the floor all around! Some do double takes, others stare for a while and them come back and stare some more. The sound is wonderful and so versatile. I can dial up a great rear pickup Jaco-esque tone and one flip of the pup selector and its Slap city! The front pickup tone is very deep and ballsy yet tight while the rear gets that great bark and growl while still being thick and full! Ebony neck lams are the best! Thats all for now. Gotta play more, more, more!"


Another four months have gone by, and Michael shared some more thoughts about his "Raging Bass": "The visual image I get when playing this bass is that of an angry (or if you like, raging) bull being held back with a leash made for a pomeranian!! I feel like I have to be very careful not to overpower other members of the band as this bass speaks with authority and PUNCH!! Say, wasn't there a Robert DeNiro movie about a boxer with a very powerful punch?"