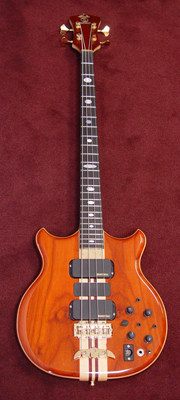 We've been calling this bass Red Tiger ever since Shoji registered as redtiger on the Alembic Club to watch his bass as we built it.

When he ordered the bass, Shoji had a few specific requests, like the narrower than usual nut width and the solid gold logo and script. The whole set of features is reminiscent of our classic builds, back when there were many fewer options available. If you ordered a short scale Series I in Vermilion back in 1975, you'd get Vermilion as the top laminate, but the back might have been something different, and the peghead veneers would have been whatever was on hand at the time. In fact, there's whole chunks of instruments from the mid-seventies where the peghead veneers were Coco Bolo no matter what the body laminations were.


Since this bass was specifically built for Shoji, we could incorporate many of the small improvements we've made since those early instruments. For example, moving the location of the pickup selector from the lower horn to the rest of the electronics cluster. Back in the early 70s, who ever heard of slapping? The pickup selector was in a nice, out-of-the-way place, but still accessable for easy changes. Once you slapped yourself into stand-by, it was only natural for the pickup selector switch to migrate to safety!