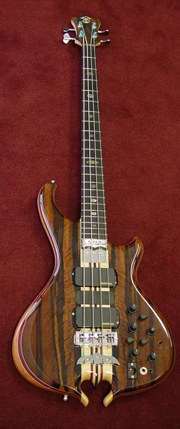 We asked Paulo Dinitz, to introduce his new bass for the December Featured Custom


I've been playing bass for almost 22 years (since I was 13, I'm 34 now) and I'm the bass player from Jota Quest, one of the most famous pop-funk bands in Brazil. Our label is Sony/Brazil and we have sold over 3,000,000 copies of our 5 albums.


My first contact with Alembic was when I was begining to play bass in the 80's, my teacher showed me some Stanley Clarke albums and I remember I asked him what bass Stan was using to have that crazy sound! My teacher told me that Stan uses "Alembic basses," and I said how can I buy one? My teacher answered "forget it man, too much for you, who knows when you'll be a famous artist?" You can't imagine how hard it is for a kid from Brazil to buy a good bass guitar, especially an Alembic. Some time after my band was signed by Sony Music and soon I bought an Epic bass with the money that they gave us to buy equipment for us to record our first album.


My devotion for Mark King and his sound inspired me when I was a young player, but I wasn't a MK clone. With my band's success I bought a Rogue bass, Brown Bass, Europa bass, Distillate bass and then I started my most ambitious project, to "HAVE MY DREAM BASSES FROM ALEMBIC." Rio is the first of them and I'm intending to continue this project. I have donated 10% of the price of Rio to poor people in my country, and I'll do the same for the other ones.