November 2002
Autumn's Delight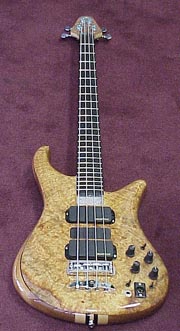 What you're looking at is a very special custom bass. Rod had been thinking about getting a custom bass for a while. When he visited our shop, we just received a round of some amazing Burl Padauk. As soon as he saw it, he knew it would grace the top of his custom bass. In fact, Rod's bass is the first instrument we made from this striking wood. The pictures can't begin to do it justice - the figuring resembles polished marble more than wood. The colors are gorgeous autumn hues with orange, peach, rust, and crimson. The figure is a heavy burl with a fantastic flame pattern superimposed. Nature's artistry is hard to beat.


While the bass starts out as a Series I, many custom options and special features set it apart as a true work of art. The Ebony neck laminates and accent pinstripes are an elegant touch (and sound darn good to boot!). The clean look of no inlays focuses all the attention on the wood.


Another idea Rod wanted adapted for his custom bass was the curved body like the Ned Steinberger designed Spector basses. Using that shape as a guide for the basic form, we modified the upper horn to match the sleek appearance of the bass. We had to change the curves to fit all the Series I electronics as well. You can get an idea of how the bass curves from the reflection in the photo at the bottom of this page showing a closeup of the body.