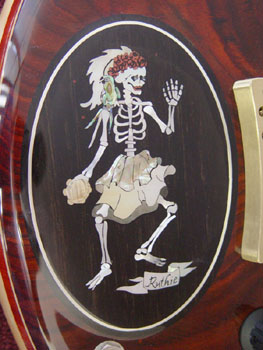 Ruthie is named after Sam's wife and is the reason there's a small Conure parrot perched on her shoulder. "Peppy" is often found on Ruthie's shoulder in real life. In the inlay, Peppy has a green abalone body, New Zealand paua shell for wings and one tail feather. The other tail feathers are red and green abalone.


Dancin' Ruthie has a ponytail of donkey shell and an abundance of Pink Ivory wood roses atop her skull. Three petals float around from her dancing. She's got Pink Ivory lips and a set of blue zircons for eyes, adding to her femininity and contributing a certain "sparkle" to her personality.


She's dressed in a skirt layered from black Tahitian mother of pearl, ripple figure abalone and golden mother of pearl. She holds in her hand a tambourine made of silver, abalone and mother of pearl. To complete the picture, she dances over a mother of pearl banner engraved with her name.


Ruthie and the other inlays on this guitar were designed by Susan then inlaid by James.