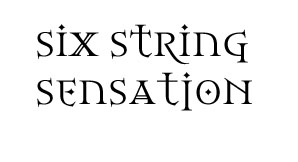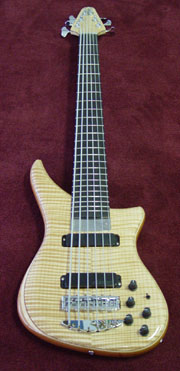 Rodney called Susan to tell her how much he liked the used Epic 4-string bass he had recently bought. Shortly after that, he visited Uncle Bob's music and puchased a new Epic 5-string. Rodney had a 6-string bass made by another high end manufcaturer in his collection that when he compared to the Epics, he remarked to Susan, "How can the entry level Alembic sound better than my $8000 custom bass? But it does!" He traded that bass in and arranged with Tyler for his custom 6-string Epic.


A six string bass is always a special instrument, so it's perfectly natural that when Rodney ordered his custom Alembic that he wanted to incorporate his favorite features. So while at first glance it looks almost like a normal Epic 6-string, the bass reveals its true custom nature on closer inspection.


Rodney loved the idea of the electronics from the East Meets West bass, so it topped the list of custom options for his dream bass. Pairing the traditional Epic controls of volume, pan, bass and treble with an added low-pass filter and Q-switch makes a simple to use but extremely versatile control layout.