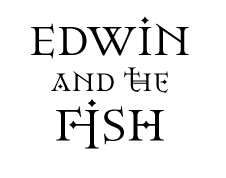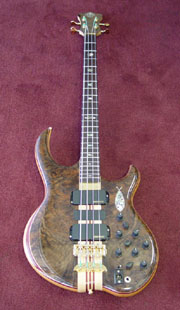 Why a fish? It's kind of a long story. Once upon a time we had a small fishtank in our offices with several goldfish. Some were fancy, some were plain. One in particular was special because he didn't have a dorsal fin. Each of these fish had distinct personalities, so we named them after some of our friends. Kathleen was the orange and white fancy, Melody was the black moor, and Edwin was the finless comet (if you've never seen Edwin the bass player, he's had a shaved head as long as we can remember).


As it goes with goldfish, Kathleen and Melody weren't in this world for long, but that Edwin, he was our companion for a good long time. Well, eventually Edwin the bass player became Edwin the Fish, and the nickname has just sort of stuck, at least when we're talking to him!


Since it had been a few years since Edwin treated himself to a new Alembic, he decided to get some interesting custom features on this build, starting with the memorial fish inlay.