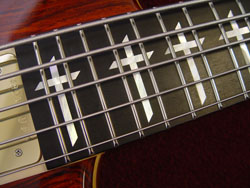 The primary inlays are white mother of pearl, cut like crosses found in the Methodist church. John explains the rest. "In a playing position, even from a distance, you can see the row of white crosses. Very striking, reminds you of the WWII graveyards in Europe. In my mind, these represent all of us as humans. The 3 crosses at the 12th fret represent the crucifixion where Christ was hung between 2 thieves. According to the Bible, one thief taunted Christ while the other recognized him as the Son of God."


Mica hit on the idea for the 12th fret inlay of making the tallest cross in the center from golden mother of pearl, representing Christ, the lowest cross on the left from black Tahitian mother of pearl, representing the taunting thief, and the cross on the right, representing the repentant thief, from white mother of pearl (like the rest of the crosses on the fretboard representing us). All together it makes a striking design integrated across the fretboard, easily recognizable from a distance.


The horizontal bar of each cross uses the A string as its reference baseline, while the G string proivides the baseline for the vertical bar of each cross. The idea is that the combination of the strings and the crosses will look balanced and even, though every single inlay is a different size.