March 1999
Series II Triple Omega
This bass is like a dark knight. Rich superb flame walnut top, walnut core with vermilion accent laminates really keep this bass understated, despite the outrageous body design. The body is our Triple Omega with a pistol grip on the upper horn.

This was not Richard's first Alembic. He's also got a custom Series II guitar in zebrawood and a 12-string Series I guitar in purpleheart. After playing these, and coming to our factory several times, he started to design his dream bass. We just had received this gorgeous flame walnut, and that was the center of the design.

To keep the maximum amount of walnut exposed, both the front and back feature the "bookmatch to center" option which covers the neck (when you look up at the bottom omega you can still see the neck). The walnut core keeps the overall dark theme going.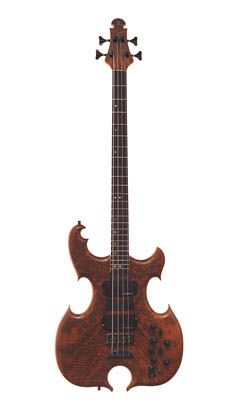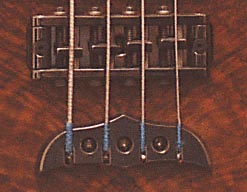 Blackened brass hardware detail. We use the same brass hardware, set the bass up completely, then send the brass parts to be plated. Result? even the slots in the nut and bridge saddles are plated, leaving no place to corrode, until you play it so much you wear through, but boy that's a looooooong time.

This customer is currently having us build a sister guitar to this bass, so look for it later this year in this same section.